Översikt
På detta 32-dagars äventyr kommer du att upptäcka den centralamerikanska själen och fascineras av mångfalden i Mexiko, Guatemala, Belize, Honduras, Nicaragua och Costa Rica. Vi kommer att köpslå på lokala marknader, snorkla bland korallrev utanför Belize, besöka det koloniala Antigua, övernatta hos lokalbefolkningen, vandra genom Montverde's dimmiga molnskogar, bestiga väldiga vulkaner, förundras över de mystiska Mayaruinerna, njuta av solen på karibiska stränder, prova forsränning, shoppa i San José och mycket, mycket mer…
Äventyrsresorna är utformade för dig mellan 18-39 år. Medelåldern på resorna är omkring 25 år och du kommer att resa och leva tillsammans med ungdomar från hela världen i grupper om cirka 10-20 personer. Resorna är perfekta för dig som vill resa i en liten sammansvetsad grupp där du kommer att lära känna många nya vänner.
I varje grupp medföljer alltid en erfaren Tour Officer som har gedigen lokalkännedom och vid varje resmål kan du själv välja om du vill följa med på de spännande aktiviteter som anordnas eller om du önskar upptäcka platsen/staden på egen hand. Vid flera av resmålen har du också möjlighet att tjänstgöra som volontär inom olika angelägna projekt.
Tillsammans med nya vänner kommer du att få unika och oförglömliga upplevelser som tar dig så nära ett lands kultur, natur och djurliv som möjligt – men du kommer givetvis även att njuta av nöjesliv, mat och skönt strandhäng!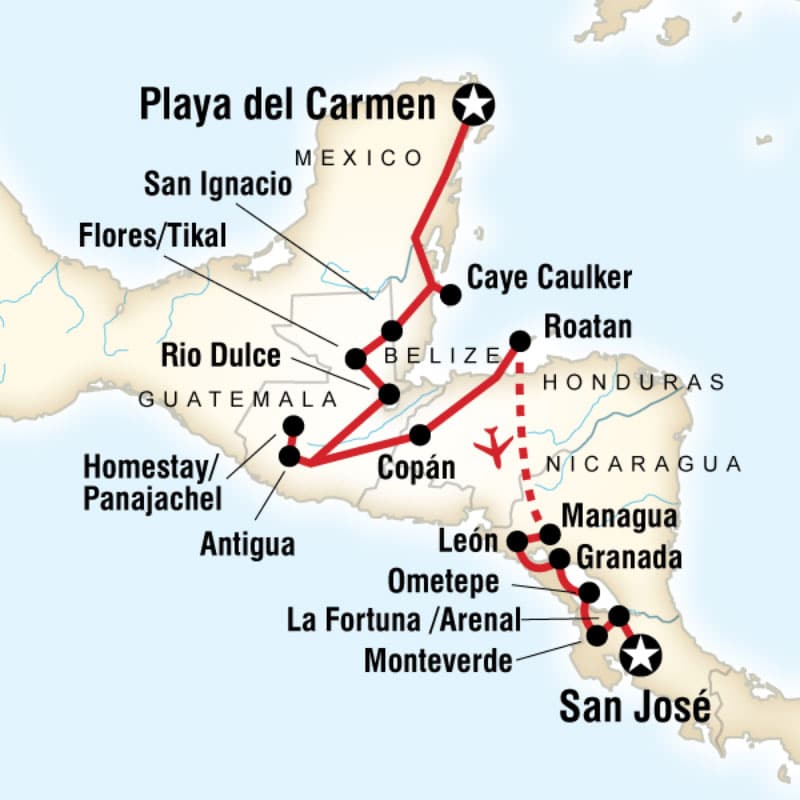 Resrutt
Dag 1 Playa del Carmen
Anländ vid valfri tidpunkt.
Dag 2 Playa del Carmen.
Vi njuter av stränderna, snorklar eller dyker i Cozumel, eller besöker Maya ruinerna av Tulúm
Dag Dag 3-7 Belize
Snorkla och dyk bland rockor och hajar på Hol Chan Marinreservat, besök den heliga Maya grottan Actun Tunichil Muknal eller bara luta dig tillbaka och koppla av.
Dag 8-16 Guatemala
Guidad vandring genom Antigua, köpslå på marknaden Chichicastenango, besök Maya ruinerna av Tikal, ta en båttur till Livingston eller besök lokala byar runt Atitlansjön.
Dag 17-22 Honduras
Besök Maya ruinerna av Copán, snorkla, dyk eller koppla av på stranden i Bay Islands.
Dag 23-26 Nicaragua
Guidad vandring genom Granada. Välj mellan att bestiga en av de två vulkanerna på ön Omepete eller paddla kajak i Nicaraguasjön.
Dag 27-31 Costa Rica
Testa forsränning, åk kana nedför vattenfall, flyg genom djungeln på en zipline, se Arenalvulkanen, besök en kaffeplantage, vandra genom molnskogen eller bada i varma källor.
Dag 32 San José
Avresa vid valfri tidpunkt.
Detaljerad information
Escape the resorts and discover something extraordinary in Central America. Visit six countries on this classic adventure and experience mighty ruins, clear Caribbean waters, rainforests and breathtaking scenery along the way. Explore indigenous Mayan villages and meet locals for an immersive experience that few travellers get to know. While you're free to choose your own adventure, your accommodation and transportation are included, and our expert CEOs will help you make the most of your time. Take a trip that's packed with all the things you need and nothing you don't—32 days of maximum adventure at minimum cost.
Relax on white-sand beaches
Explore the Mayan ruins of Copán and Tikal
Bargain at the local markets of colourful colonial Antigua
Meet some local friends at overnight homestays in Guatemala and Nicaragua
Skip the bus and gain time (and comfort!) with a flight between Roatan and Managua.
Duration: 32 days
Start/Finish City: Playa del Carmen to San José
Service Level: Basic
Excellent value, amazing prices, quality experiences
Simple and clean hotels, guesthouses and hostels chosen for location and character
Affordable public and private transport for maximum cultural interaction
Plenty of optional activities tailored to your interests and budget
Physical Grading: 3
Trips may include activities like hiking, biking, rafting or kayaking. No sweat, right?
Adventures for 18 to thirty somethings
Designed for young, budget-minded travellers, Yolo trips maximize time and money by squeezing the most out of a destination. This ain't your typical big-bus tour, though. Small groups, insider access and personal freedom to follow the whim of the moment are the order of the day, every day.
Trip Type: Small Group
Group trips average 12 travellers per departure, depending on the adventure. The maximum is usually no more than 16, but some can be smaller or bigger, depending on the trip. Check individual trips for details.
Itinerary
DETAILED ITINERARY
Day 1 Playa del Carmen
Arrive in at any time. Shuttles and buses from the Cancún airport are easy to find and reasonably priced. Check into our hotel and enjoy the city. Please try to arrive before 6pm for an important group meeting where you can meet the Chief Experience Officer (CEO) and the other group members.
*Please note: if you have pre-booked the Costa Rica Adrenaline Bundle your CEO will inform you when you will do each activity throughout your tour, days are subject to change: Canyoneering (Day 28, half day – Arenal), ONE of the following: Stand up paddle, half day hike, venado cave or kayak (Day 28, half day – Arenal) and ziplining (Day 30 – Monteverde) . For more information on the Bundle see the Optional Activities section.
Day 2 Playa del Carmen
This once sleepy village is quickly becoming a destination among sun worshippers worldwide. Stroll along the cool, white sands of the Caribbean coast, spend your time snorkelling or diving in underground caverns, or simply sipping on cool margaritas and catching some rays. Playa del Carmen is also known for its vibrant nightlife.
Just off the coast is the island of Cozumel, renowned for its world-class diving. Take the ferry from Playa del Carmen (30 to 75 minutes depending on the boat) across the turquoise waters and explore the towns and the reefs of the island. For a first dose of ruins, Tulúm is just a 45-minute drive south of Playa. Aside from its unusual late Mayan architecture, it offers possibly the most appealing setting for any ruins, as it is located on a palm-fringed, white-sand beach, where you can even go for a swim within the ancient walls.
Day 3-5 Caye Caulker
For many years Belize has been a relatively unknown destination, and tourists have only recently begun to explore this fascinating country. Mention Belize and you may conjure up visions of unbelievably clear blue waters, diving and snorkelling along the barrier reef and remarkable marine life. Belize also boasts huge swaths of jungle, ancient Mayan ruins, and above all, friendly, easygoing people. Belize is all this and much more!
As a peaceful, democratic and English speaking country, Belize is an anomaly in the region; it seems in many ways not to belong in Central America at all. In many ways, Belize has more in common with its Caribbean rather than its Latin neighbours, although it has plenty of distinctively Central American features as well. Its unique blend of cultures includes Maya, Mestizo, African, European, Arabic and Asian. English is the first official language (as a former British Colony) and Spanish runs a close second, though the locals speak Creole the majority of the time.
Caye Caulker is a relaxed and easy-going island with friendly and welcoming local residents. The main street is a sandy pathway through the centre of town surrounded by small bakeshops, seafood stands and bars. There is not much to do on the island except relax and explore the reef. Snorkel and dive boats leave daily for full or half-day outings to the reef, Hol Chan Marine Reserve, the Blue Hole and manatee spotting tours at Swallow Caye.
The barrier reef is the world's second longest (after Australia's) and offers some truly amazing sights including coral canyons and an astonishing range of tropical fish, Manta Rays, sharks and barracudas, as well as the more mundane, edible varieties of fish.
Estimated Travel Time: 12 hours
Approximate Distance: 480 km
Day 6-7 San Ignacio
From the town of San Ignacio, opportunities abound for exploring Belize's little known inland scenic beauty. With your free time here, you may choose to explore the area by foot, canoe or horse, take a caving trip, or visit the Mountain Pine Ridge Area and swim in its inviting pools and rivers.
As a peaceful, democratic and English speaking country, Belize is an anomaly. It seems in many ways not to belong in Central America at all. To an extent, it is more a Caribbean nation than a Latin one, looking out from the coast rather than inland for its trade and alliances. On the other hand, it has plenty of distinctively Central American features. It offers a unique blend of cultures that includes, in a tiny population, people of Maya, Mestizo, African, European, Asian and Arab descent. Aside from the rich and lyrical local Creole, Spanish is also spoken throughout the country. For many years Belize has been a relatively unknown destination, and only recently have tourists begun to discover its wonders, including the western hemisphere's longest barrier reef (second only to Australia's).
The San Ignacio/ Mountain Pine Ridge area is the highlight of the trip for some travellers to Belize. The Mountain Pine Ridge Forest Reserve covers almost 500 square kms (310 square miles) and only controlled logging is allowed. Interesting stops include Hidden Valley Falls, spectacular waterfalls dropping more than a 300 m (984 ft) over the granite edge of the jungle. Further along you will cross the Rio On, and a climb over an assortment of worn boulders and rocks will bring you to a delightful site with waterfalls and several warm water pools. The Mountain Pine Ridge area is also renowned for its system of caves, the biggest and most famous being the Rio Frio Cave. There is an enormous arched entrance into the kilometre-long cave, the largest in Belize.
Also well worth a visit, the Cave of the Stone Scepter, Actun Tunichil Muknal involves a 45-minute jungle hike to the opening of the cave, wading across a river three times before the adventure begins! Inside the cave, you'll find a Mayan cermonial site. There you will be amazed by the natural museum of Mayan relics left just as it was by the Maya 1400 years ago. Ceramic pots, skulls, and calcified skeletons will enthrall even the most experienced speleologist.
Days trips can also be arranged to Xunantunich,an impressive Maya ceremonial centre located on a natural limestone ridge providing a grand view of the entire Cayo District and Guatemalan countryside. The tallest pyramid on the site, El Castillo, has been partially excavated and explored, and the east side of the structure displays a unique stucco frieze. The plaza of the ceremonial centre houses three carved stellae. You can get a group together and hire a taxi to take you to the site. Getting there includes crossing a narrow river by a hand-cranked ferry which shuttles you across! There is a small fee to enter the grounds and a guide can give you the lowdown on the site.
In San Ignacio the accommodation is a rustic Eco-Lodge, you will enjoy being totally surrounded by nature. Eat local belizean food, swim in the river that passes by and wake up to the sounds of belizean wildlife at your window. There are composting toilets and ceiling-less showers, this lodge is one of the most unique stops of your adventure.
Estimated Travel Time: 4 hours
Approximate Distance: 110 km
Day 8-10 Flores/Tikal/Rio Dulce
Cross the border into Guatemala and you immediately notice the difference in culture, with its heavy Mayan influence and Spanish language. Here we have entered Guatemala's northeast jungle Petén region. The descendants of the Maya of Chichén Itzá migrated to the Petén area several centuries after the collapse of the great Mayan cities in the Yucatán.
En route to Flores, stop off at the ancient city of Tikal for an included guided tour. The sheer scale of the ruins at Tikal may at first seem daunting. If you make it only to the main plaza or spend an hour relaxing in deep contemplation, you certainly won't be disappointed. The central area, with its five main temples, forms by far the most impressive section. Explore beyond this and you can wander endlessly into the maze of smaller structures and outlying complexes hidden in the jungle growth. If your energy levels are high enough to make it to the top of Temple IV—the tallest structure in the Mayan world—spectacular views of the surrounding jungle canopy greet you. Peaks of the various temple complexes rise above the trees, giving a sense of the enormous scale of the site, impossible to gauge from ground level where the view is obscured by dense jungle. Occasionally you may spot toucans, macaws and other bright birds from this artificial perch within the greenery. Marvel at the engineering and organizational skills needed to construct this city within the jungle.
All in all, Flores remains one of the most scenic and charming towns in the Petén. It is particularly attractive to visitors because of Lake Petén-Itzá, a large lake (12 km long and 3 km wide) offering all sorts of possibilities for fun including swimming, boating, fishing, bird watching, a small zoo and a nature preserve.
Note that the rainy season in the Petén is generally from mid-May until early January. Be prepared to get wet during this time. Make sure you have plastic bags to wrap around the items in your daypack while hiking, and bring a good (light) waterproof jacket. Also make sure that you have strong insect repellent. The dry season runs January until mid-May. During this time you need to make sure you have adequate sunscreen.
After a night in Flores, we take the road past areas of dense jungle and arrive at Río Dulce, a small town on Lake Izabal and a port stop for boaters around the globe.
There are plenty of opportunities for R & R. Aside from boating on Lake Izabal, there are optional tours in the area to view protected manatees, or you may opt to horseback ride through a rubber plantation, explore San Felipe fort, take the morning monkey kayaking tour, or relax in the thermal springs.
San Ignacio to Tikal:
Estimated Travel Time: 3 hours
Approximate Distance: 130 km
Tikal to Flores:
Estimated Travel Time: 1 hour
Approximate Distance: 50 km
Flores to Rio Dulce
Estimated Travel Time: 6 hours
Approximate Distance: 210 km
Day 11-12 Antigua
Antigua is the old capital of Guatemala and as the seat of the Spanish colonial government, was once the most important city in all of Central America. Your CEO will give you an orientation walking tour to introduce you to the city and help give you your bearings. You can then take more time to enjoy the beautiful architecture of this UNESCO-designated World Heritage Site. Take a mountain bike ride out into the countryside or explore the fascinating markets, shops and museums within the city.
Once the third largest city in all of Spanish America, Antigua served as Guatemala's capital city for more than 200 years until it was destroyed by an earthquake in 1773. Modern Antigua is a peaceful, partially restored colonial city that is a pleasure to explore. Walk through quiet cobble-stoned streets past rebuilt stucco homes with heavy, beautifully carved wooden entrances. It is a short 45 km from Guatemala City on a lovely winding road. The trip takes you through many small towns and villages, past red, tile-roofed huts and people in colourful traditional clothing. The natural scenery is some of the most beautiful anywhere, with high mountain peaks surrounding deep valleys and every inch of land covered with lush growth.
Estimated Travel Time: 8 hours
Approximate Distance: 290 km
Day 13-14 Panajachel/Lake Atitlán Homestay (1D)
Travel through the hills and fertile fields of the Guatemalan highlands to the shores of Lake Atitlán, one of the most beautiful spots in Guatemala. Twelve native villages, blue/grey mountains and three volcanoes line the shores of this lake resulting in a wonderful combination of unusual natural beauty and traditional culture.
Panajachel is a relatively modern town with paved streets in its centre and a great deal of old world flavour and charm. The best way to see Panajachel is on foot, but pay attention to where you're going as there aren't any street signs. Visit the old churches and explore the back streets to see the more traditional side of Panajachel. You'll have the opportunity to visit the villages on the lake by boat, departing in the mornings and returning in late afternoon. Get ready for spectacular views of the surrounding volcanoes, and everyday life in a highland village. The people of this area have received tourists for some timeand are friendly and ready to smile at strangers as readily as they will at a lifelong friend.
The area is also ideal for outdoor pursuits like swimming, fishing, wind surfing, hiking, bird watching, kayaking, and horseback riding.
One evening, we will stay overnight with the Planeterra-supported Mayan Homestay Project, which is located in the village of San Juan. The project currently hosts G Adventures groups twice per week and another company's group once per month. Planeterra's initiative here is to help more families get involved in the Posadas Mayas program and current families to have more space by remodeling and constructing new rooms. The project also includes investing in solutions that reduce environmental impacts associated with tourism (i.e. waste and water management) and developing other small businesses to be linked to the Posadas Mayas.
This once in a lifetime experience will really help you to gain a better understanding of the day-to-day life of the locals in this region. G Adventures' partner organization in this town is working hard with the Tz'Utujil Maya to provide positive interaction with travellers through local tourism. The organization also works with the local schools to ensure needed materials are available to teachers and students.
Note: Please dress conservatively when visiting the villages and refrain from photographing religious ceremonies, or individuals who do not wish to be photographed.
Estimated Travel Time: 4 hours
Approximate Distance: 100 km
Day 15-16 Antigua
We return to Antigua to spend more time to explore the city, shop, and check out optional activities in the area. The point of reference for finding one's way around Antigua is the Central Park, which is directly in the centre of town and the place to be in the late afternoon/early evening. Explore the museums, the colonial buildings and other sites in this delightful town and don't forget to try some famous Guatemalan coffee.
While here, enjoy an included group salsa lesson, then why not have a night out on the town?
Antigua offers three specialties that make shopping here very worthwhile. Textiles sold here and in the nearby towns are of the highest quality, beautifully designed and woven on foot looms or the rarer back strap loom. Jade, in the form of carved statues and jewelry, is sold in several factories and shops in town and silver jewelry is sold in the better shops and also in a silver factory in nearby San Felipe de Jesus. The city offers good buys in ceramics and antiques as well.
Optional activities include a hike up the Pacaya Volcano, visiting Macadamia nut and coffee plantations and mountain biking around the area.
Estimated Travel Time: 4 hours
Approximate Distance: 80 km
Day 17-18 Copán
The Mayan ruins of Copán are fascinating, beautiful and unique among Mayan cities. Declared a World Heritage Site by UNESCO in 1980, Copán contains some of the most important Mayan ruins found to date, and many unusual artistic features. Visitors walk through grassy plazas filled with intricately carved and decorated monuments, statues and staircases. Huge carved faces stare at you from ancient walls and bring the place to life, causing renewed wonder at the mysterious disappearance of such a creative civilization.
The colonial highland town of Copán Ruinas is a charming and relaxing place. This town has a lot more to offer than just the ruins. Opt to explore the nearby hills on horseback and check out some lesser known Mayan sites along the way or check out a local private macaw reserve that is also home to a large variety of other birds on the property. If neither of those appeal, you can journey to some local hot springs for a relaxing soak.
Estimated Travel Time: 8 hours
Approximate Distance: 200 km
Day 19-21 Roatan Island
After another full day of travel through the hills of Honduras, we arrive at the coast and ferry across to paradise. A SCUBA diving haven amidst what is part of the second largest barrier reef in the world, Roatan is a Caribbean-style island made famous for its marine treasures. Crystal blue waters invite swimming, diving, snorkeling, or simply relax on the white, sand beaches of the Bay Islands. You will also get a break from practicing Spanish because as a former British colony, many locals here speak English.
Roatan is surrounded by over 100km (62 miles) of living, protected reef that is home to thousands of species of fantastically coloured fish and marine life. The beaches of the western end are some of the most beautiful in the world, with clear turquoise water, powdery white sand and swaying coconut palms. While many people spend their days immersed in the warm, blue Caribbean waters and enjoying excellent fresh seafood, you may also opt to venture into the hilly interior by bicycle or scooter. The botanical gardens offer relaxed walking amidst exotic plants and racing "Jesus Lizards", a species of lizard that runs on its hind legs, even over water! In nearby Sandy Bay the Institute for Marine Sciences and the Roatan museum are definitely worth a visit.
Estimated Travel Time: 12 hours
Approximate Distance: 350 km
Day 22 León
Skip a long bus ride and fly in style to Managua, then continue overland to politically progressively León in Nicaragua.
León was the nation's capital from the colonial period until 1857 and is still the centre of much of the country's cultural and intellectual activity. Nicaragua's first university was founded here in 1912, for example. León is still the home to multiple universities, and when in session, you will see many students around town. Many well preserved Spanish colonial buildings and churches line the streets along with the cathedral, which is the largest in Central America. Construction began in 1747 and continued for one hundred years.
Wander through the streets and find several politically-charged murals depicting Nicaragua's turbulent history and several good museums in the area, including one dedicated to the heroes and martyrs of the Sandinista movement.
Estimated travel time
Transfer and flight: 2.5 hours
Private overland transfer: 4.5 hours
Day 23-24 Granada
Nicaragua has flourished in recent years and boasts both friendly people and impressive natural beauty. Granada's colonial charm is complemented by the active volcanoes and lakes that surround it, and there are many fun easy day trips available. Hike, cruise, or just explore the city's markets and museums. Walking is probably the easiest way to see all the sights of Granada, your tour leader will give you an initial orientation walking tour of the city and then you have plenty of time to explore in more depth.
Granada is Nicaragua's third largest and oldest city and retains its traditional Spanish colonial character. It's sometimes called ¨The Great Sultana¨ because of its beautiful colonial architecture. In the warm evenings you can usually find friendly neighbors visiting and chatting with each other from rocking chairs in the open front room of their homes. You'll walk along cobblestone streets and see brightly painted buildings. Frequently live local music is played in the square, and good nightlife is easy to find. Granada is located on the shores of Lake Nicaragua and has a long park ideal for strolling. For a relaxing afternoon, you can spend a couple of hours in a boat touring some of the 350+ ¨Isletas¨ or little islands by found nearby Granada in Lake Nicaragua. Other optional activities include visiting the nearby extinct Volcán Mombacho, now shrouded in vegetation, or Masaya Volcano National Park, which is home to an active volcano. The nearby markets of Masaya house vendors selling great Nicaraguan handicrafts such as hammocks, ceramics, and paintings.
Estimated Travel Time: 12 hours
Approximate Distance: 370 km
Day 25-26 Ometepe (1B,2D)
From the town of San Jorge, we cross Lake Nicaragua by ferry to arrive at Ometepe Island, the location for our Planeterra-supported homestay. The group will be split up amongst different local families who will host you in their homes for two nights in a small community on the island. Breakfast and dinner will be provided in the home.
The Planeterra Project – the community homestay program Puesta del Sol in the village of La Paloma on Ometepe Island, Nicaragua, is now receiving at least two groups per week from G Adventures increasing income for the community. Planeterra is strengthening the organization with training on how to run their small businesses and is investing in solutions to reduce environmental impacts. We are also working on developing other small businesses in the area to be linked to the home stay, creating a sustainable supply chain – and more positive local economic benefits.
Also known as La Mar Dulce (the Sweet Sea) and Lake Cocibolca, Lake Nicaragua is the largest lake in Central America and the tenth largest freshwater lake in the world. Forty-five rivers flow into the lake and it is home to the world's only species of freshwater shark. The setting is dramatic, with two towering volcanoes dominating the island's landscape; Volcán Concepción at 1610 m (5281 feet), and Volcán Maderas, at 1340m (4395 feet). The wildlife on this island is abundant and includes several species of monkeys and green parrots. Howler monkeys are especially interesting, their scary roar (you'll think it's a jaguar) can be heard for several miles.
As you journey to the homestay, you´ll pass plantain plantations and several small villages, giving you a chance to see how rural Nicaraguans live. If you enjoy a challenge, hiking Maderas Volcano might be the right optional activity for you! If not, check out the pre-Colombian petroglyphs, try out the Tarzan swing at a nearby jungle swimming hole or enjoy the beach.
Estimated Travel Time: 5 hours
Approximate Distance: 60 km
Day 27-28 Monteverde (1B)
Costa Rica is a natural gem because of its breathtaking flora and fauna. Travelling into the cool cloud and rainforests of Monteverde, we have a glimpse of how lush ecosystems truly are works of art. Take time to bird watch, ride a horse, mountain bike, or ride a zip line over the rainforest canopy.
Spend two days exploring Monteverde and the Forest Reserve, truly a nature lover's paradise. Local guides are extremely knowledgeable about the area and passionate about conservation of this precious ecosystem. The unique community has several local co-operatives worth visiting including artist collectives and a cheese factory. If you're there at the right time of year, you may be lucky enough to see the Resplendent Quetzal, one of the most beautiful and elusive birds in the world. Optional activities include walking across a series of suspension bridges through the jungle canopy, a butterfly garden and a thrilling canopy zip line.
Monteverde or "Green Mountain," is exactly what you find at the end of the long, rutted dirt road through the mountains. The surrounding pastures were once covered with dense forest, but today only a small piece of it remains. That piece of forest has been preserved as the Reserva Biologica Bosque Nuboso Monteverde, the Monteverde Cloud Forest Biological Reserve. Cloud forest is much like a rainforest, but much of the moisture comes not from falling rain but from the condensation left by the nearly constant cloud cover that blankets the tops of mountains in many parts of the tropics. Monteverde Reserve covers 1600 hectares of forest and is home to a great variety of wildlife. More than 2,000 species of plants, 320 bird species and 100 different species of mammals inhabit this small area. The Santa Elena Reserve, another park contiguous with Monteverde, is less well known and visited but also worth seeing. All proceeds from this park profit the local community.
Quakers from the United States founded the village of Monteverde in the 1950s. Looking to leave behind the constant fear of war and objecting to being forced to support continued militarism through their taxes, the Quakers chose Costa Rica because of its commitment to a non-militaristic economic path—Costa Rica's army was dissolved in the 1940s. Since its founding, Monteverde has grown slowly as others who shared the original Quaker founders' ideals moved to the area. Although the Quakers came here to farm the land, they recognized the need to preserve the rare cloud forest that covers the mountain slopes above their fields. The community is very different from those on the coast, and offers several souvenir shops and the Quaker cheese factory, which is definitely worth a visit. Make sure to try their ice cream!
Estimated Travel Time: 10 hours
Approximate Distance: 240 km
Day 29-30 La Fortuna/Arenal
Set on the northern plains of Costa Rica, Arenal Volcano sits on the southeast shore of artificial Lake Arenal (77 square kilometres, or 48 square miles). Separating the mountain ranges of Guanacaste and Tilarán, the lake was created by a hydroelectric dam. Winds sweeping off the Caribbean Sea reach speeds of 48 to 72 km/hr (30 to 45 mph), across Lake Arenal you can find one of the best locations in the world to go windsurfing. The volcano, once quite active, has been in a dormant state since the beginning of 2011 but still is a dramatic backdrop to the town of La Fortuna.
La Fortuna, the town near the foot of the volcano is an excellent base for adventure. Hike the area's nature trails, swim in chilly La Fortuna waterfall or join a canopy tour and catch a bird's eye view of the forest greenery. Other optional activities include full-day Class III & IV white water rafting on the Toro or Arenal Rivers, mountain biking, caving, horseback riding, or a tour of the Caño Negro Wildlife Refuge. Like much of Costa Rica, the area is a birders' paradise, with over 600 species as permanent residents. After a long day of exploring, the Baldi Hot Springs might just be the answer to your tired muscles. Soak in one of the natural thermal baths and hope for the clouds to part long enough for a glimpse of Arenal´s slopes shaped by multiple eruptions.
Estimated Travel Time: 4 hours
Approximate Distance: 60 km
Day 31 San Jose
Located in the central highlands, San José enjoys a moderate climate. Like most cities, San José has its good and bad sides. It is the centre of government, theatre, and art, as well as of air pollution and congestion. It has beautiful parks and museums, and a few beggars on the streets. It is big and often noisy, but even from its crowded downtown streets, you'll often enjoy a view of the surrounding lush mountains.
Start your exploration of the city in the main plaza, a great place to people-watch. A mime, juggler, marimba band, magician, or storyteller may be performing for whatever is collected when the hat is passed. Artisan booths are common, creating a regular arts and crafts fair atmosphere.
A source of pride for the Ticos (Costa Ricans) is the National Theatre. Inaugurated in 1897, the building was paid for by coffee growers through a voluntary tax on every bag of coffee exported. The National Museum, housed in the Bellavista Fortress, offers exhibits on pre-Columbian art, colonial art and furniture and religious art within a 19th century building that was converted from a military fortress after the army was abolished.
The Museum of Costa Rican Art, located in La Sabana Park, used to be the international airport and the museum is now housed in the old terminal building. The Jade Museum is on the 11th floor of the Instituto Nacional de Seguros building. In addition to the marvelous collection of jade objects, there are pre-Columbian ceramic and stone works as well as displays with archaeological and ethnographic information. The Gold Museum is located underneath the Plaza de la Cultura. Its spectacular collection of indigenous gold art belongs to the Central Bank of Costa Rica.
The best and least expensive places to buy souvenirs in San José are the markets. The two main ones are the ones in Plaza de la Cultura, which is an outdoor open market, and the Central Market, where handicrafts are sold along with boots, fish, flour, herbal remedies, shirts and everything else you can imagine. Always watch your belongings and be ready for crowds. If you plan on spending a few days in San José after your tour, there are a number of activities within the city and area that you can participate in, many of them outdoors.
Probably the hardest thing you will do in San José, other than get safely across busy streets, is keep the street numbering systems straight. Street and avenue numbers are posted on buildings at the corners of some intersections. Keep looking as you walk, and you will eventually find one.
Estimated Travel Time: 6 hours
Approximate Distance: 150 km
Day 32 San Jose
Depart any time.
Detta ingår
Guided tour of Tikal
Orientation walk around Antigua and Granada
Planeterra-supported homestay with Guatemalan and Nicaraguan families
Group salsa lesson in Antigua
Internal flight
All transport between destinations and to/from included activities
2 breakfasts, 3 dinners. (Allow USD650-800 for meals not included.)
Local bus, ferry, boat, van, taxi, plane, walking.
Chief Experience Officer (CEO) throughout, local guides.
Small group experience; Max 16, avg 14.
Simple hotels (26 nts), homestays (3 nts), rustic ecolodge (2 nts).
Priser & Datum
Pris:
18 030 SEK
Ofta dyker det upp fina erbjudanden på Äventyrsresorna. Kontakta oss!
STARTDATUM
Äventyrsresan börjar cirka 4 – 5 gånger per månad. Kontakta oss!
Förkunskaper & Anmälan
Anmälningsprocessen, några enkla steg.
1. Du klickar på boka och fyller i anmälningsformuläret.
2. När vi mottagit din anmälan kontaktar vi dig och stämmer av bokningen.
3. Du bekräftar sedan bokningen genom att betala en handpenning om 2000 SEK (+ eventuellt avbeställningsskydd 5%).
 Handpenningen är en delbetalning och reducerar totalbeloppet med motsvarande belopp.
 Betalningen kommer du kunna göra via Swish, bankgiro eller med bankkort.
4. Hela programmet betalas 45 dagar före start.