he setting is a highlight – stunning views over a nearby game reserve and situated close to the amazing beaches of the Wild Coast; friendly, happy animals; a lovely place to work. You will definitely learn a lot and gain some very useful experience.
DESTINATION & PROJECT
This farm is located on a rural, gravel road, approximately 20km from the Wild Coast towns of Kei Mouth/Komga in the Eastern Cape. The nearest city/airport/bus station is in East London, 60km away.
You will have the opportunity to develop new skills and experience life on a South African smallholding in one of the most beautiful, untouched areas of this diverse country. The farm is located on the Wild Coast, in the Eastern Cape Province, which is malaria-free. The project aims to farm holistically, applying techniques of biodynamic and astrological farming to rehabilitate Mpetukop Farm, its soil and its unique ecosystem. In keeping with these goals, there are both animals and plants on the land, and they are rotated, creating a mutually beneficial ecosystem, which supports a diversity of species, with the aim of improving the soil for future generations.
You will be involved in the daily feeding and care of the horses as well as exercising and assisting with traction work on the farm. You will also have the opportunity to learn about barefoot trimming, preparing and using natural remedies, basic treatments for injury and/or illness and injections, using natural horsemanship techniques in training horses for work on the farm and under saddle.
You will also assist with the care, maintenance and repair of equipment, improving grazing and repair and maintenance of horse-related infrastructure (i.e. stalls, fencing, jumps, lunge ring etc.).
You will get the opportunity to ride several times a week, if not daily, but will need to be of a certain standard in terms of riding ability. You will only be accepted onto this project if you are an experienced-enough rider – you need to be able to control a horse at all paces in an open environment and school a horse without assistance or instruction.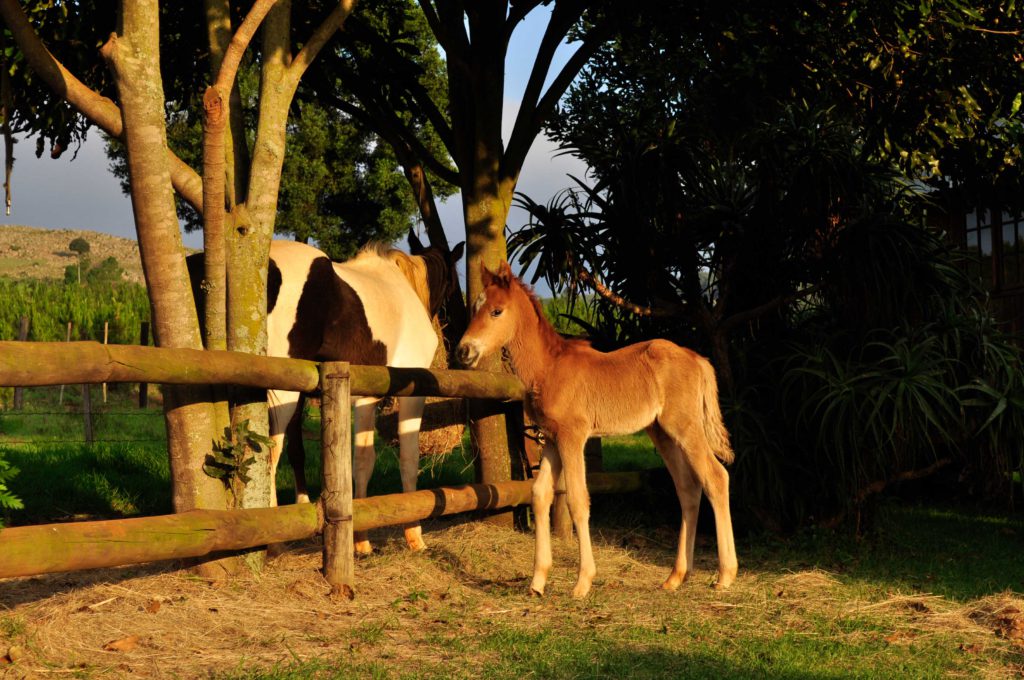 YOUR ROLE AS A VOLUNTEER:
A possible work schedule could be:
07.30 – 08.30 You work on the farm, assisting with daily farm jobs. Feeding, watering, checking animals, enclosures, grooming horses, checking temperatures, treating any injuries or illnesses, assisting with hoof trimming and other weekly horse-related tasks.
08.30 – 10.00 You ride or work with horses during this time on most days – you may occasionally (i.e. once a week) be asked to assist with the picking and packaging of vegetables.
10.00 – 10.30 Breakfast.
10.30 – 13.00 You are allocated tasks, which will range from working in the fields, to cutting poles to make jumps and other horse-related infrastructure.
13.00 – 14.00 Lunch.
14.00 – 16.30 You either continue with tasks from the morning or may be asked to work on specific projects, some of which may be projects started by previous volunteers. Examples of projects are: building a solar shower, improving and developing volunteer accommodation, constructing fences, painting etc. At least three times a week, you will assist with harnessing and working with the traction horses, either training them or working with them on the fields. You will then assist with cleaning the equipment used during the course of the day, including brushes, saddle cloths, tack and implements. You may also be asked to assist on other non-horse-related projects.
Usually you are given time off on Saturdays and Sundays but activities can be arranged if required.
It is important to note that this description serves as an example only. The daily tasks and challenges depend on the volunteer, the time of the year and the work that needs to be done. The final job description can therefore vary from the above substantially.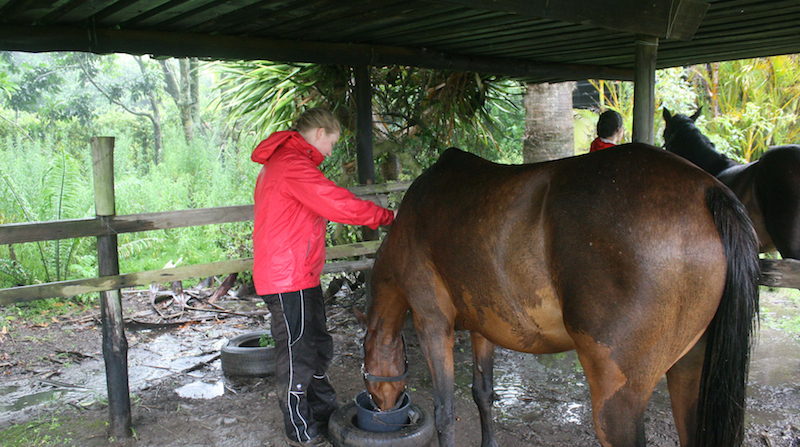 ACCOMODATION:
Your accommodation is within walking distance of the project. You are housed in the farmhouse, which you share with the owners and their dogs. One side of the house is dedicated to volunteers, while everybody shares the kitchen. The rooms are spacious and comfortable and you either have your own room, or share a room with one or two other volunteers. Up to 4 people share a bathroom. The farmhouse has a living room and is equipped with a kitchen. Bedding and towels (if requested) will be provided. For ZAR 15 per load you can use the washing machine.
There is no WLAN available but the project provides high speed internet at R15 for 30 minutes. The computer is their main computer and is therefore restricted to use outside of working hours. A telephone is available – you are charged according to Telkom rates for international calls. If you would like to use it to book a trip, etc., it is free.
TESTIMONIALS:
Patricia from Brazil (February 2014): "It was a wonderful experience. I'll recommend it to everyone that asks me. I'll remember forever!"
Misha-Joy from South Africa (September 2013): "Thank you for a wonderful experience! It is nothing I can put into words… I was touched on a mental, bodily and spiritual level."
Sophie from the UK (July 2013): "I've had an absolutely wonderful time. I've learnt more than I ever thought and enjoyed working the garden much more than anticipated. The food is wonderful! The horses are awesome (and so are the dogs). Thank you so much for managing to get me to go on the beach [horse] rides and suggesting I go to Hogsback. You guys are awesome. Wish I could stay!"
Mauro from Brazil (April 2013): "I had a great time here, enjoyed it very much! I am impressed with Nicky and Colin, they are such nice people, very impressing personalities and I appreciate that they try give you a different programme and make your stay as well as possible. And it works! Maybe you don't lean that much if you're weeding the whole day but, of course, you can't learn new things everyday as a volunteer. Thank you for a great time!"