Denna äventyrsresa låter dig upptäcka Vietnams, Kambodjas, Thailands och Laos rika kulturarv samtidigt som du får uppleva alla höjdpunkterna i dessa fyra mycket olika länder. Vi kommer att besöka myllrande städer, solbada vid gyllene stränder, se det mäktiga Mekong, snorkla vid reven, bevittna prakten i Angkor Wat, shoppa i Hoi An, fascineras över de vackra pagoderna, kryssa i magiska Halong Bay och cykla runt Vang Vien. Här utforskar och upplever du det verkliga Indokinas mångfald!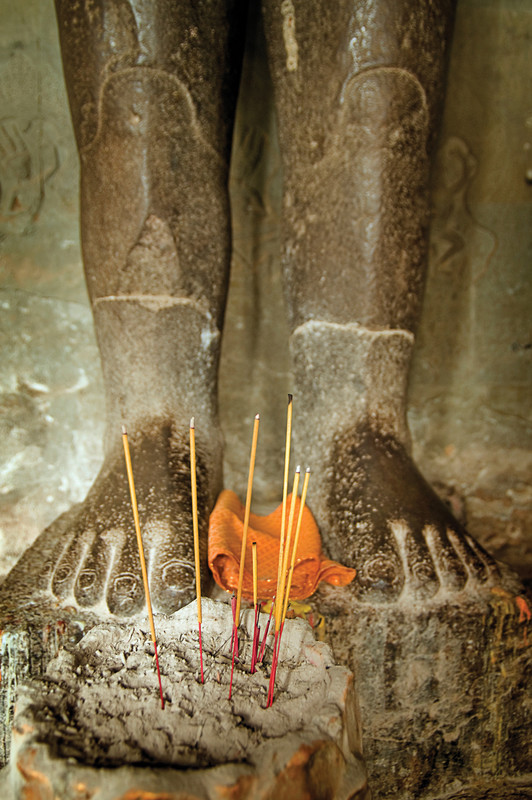 Äventyrsresorna är utformade för dig mellan 18-39 år. Medelåldern på resorna är omkring 25 år och du kommer att resa och leva tillsammans med ungdomar från hela världen i grupper om cirka 10-20 personer. Resorna är perfekta för dig som vill resa i en liten sammansvetsad grupp där du kommer att lära känna många nya vänner.
I varje grupp medföljer alltid en erfaren Tour Officer som har gedigen lokalkännedom och vid varje resmål kan du själv välja om du vill följa med på de spännande aktiviteter som anordnas eller om du önskar upptäcka platsen/staden på egen hand. Vid flera av resmålen har du också möjlighet att tjänstgöra som volontär inom olika angelägna projekt.
Tillsammans med nya vänner kommer du att få unika och oförglömliga upplevelser som tar dig så nära ett lands kultur, natur och djurliv som möjligt – men du kommer givetvis även att njuta av nöjesliv, mat och skönt strandhäng!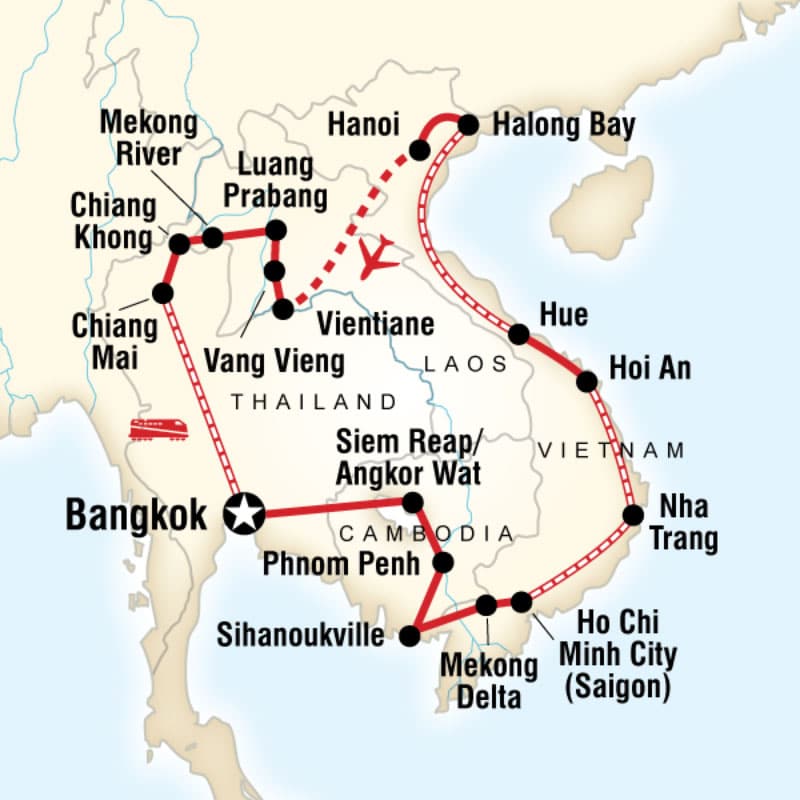 Resrutt
Dag 1 Bangkok
Anländ vid valfri tidpunkt
Dag 2-3 Siem Reap/Angkor Wat
Vi njuter av det lokala köket. Besöker Angkor Wat, Tonle Sap floating village, Angkor Museum, etc.
Dag 4-5 Phnom Penh
Vi besöker Tuol Sleng och Choeung Ek (Killing Fields), Marknaden, Nationalmuseet och Kungliga palatset.
Dag 6-7 Sihanoukville
Vi snorklar, simmar eller kopplar av på stranden
Dag 8 Mekong Delta
Tur till Sam Mountain för att se solnedgången. Båttur på Mekong River.
Dag 9-10 Ho Chi Minh City
Besök till Cu Chi tunnlarna, War Remants Museum, Colonial Quarter, shopping på Ben Thanh marknaden. Nattåget till Nha Trang avgår på kvällen dag 10.
Dag 11-12 Nha Trang
Snorkling, gyttjebad, motorcykeltur i området, koppla av på stranden. Nattåg till Da Nang (Hoi An) avgår på kvällen dag 12.
Dag 13-14 Hoi An
Välj mellan en matlagningskurs, utforska ruinerna vid Mina Son, cykla till stranden, runtur på en flodbåt eller besöka den gamla stadsdelen.
Dag 15-16 Hue
Vi besöker gravar och citadell, tar en båttur på Perfume River eller en roadtour med motorcykel. Vi tar nattåget till Hanoi.
Dag 17 Halong Bay/Bai Chai Harbour
Skaldjurskryssning i Halong Bay som för oss till grottorna.
Dag 18-19 Hanoi
Utforska Hanoi och besök Ho Chi Minhs mausoleum, Temple of Literature, Hao Lo Prison och shoppa i de historiska kvarteren.
Dag 20 Vientian
En kort flygresa tar oss till huvudstaden i Laos där vi besöker tempel, National Museet, That Luang (Golden Stupa), marknader, etc.
Dag 21-22 Vang Vieng
Vandringar, cykling, grottforskning, simning.
Dag 23-24 Luang Prabang
Matlagningslektion, elefantridning, cykelturer, tempelbesök, Royal Palace Museum, Kuang-Sii Waterfall, Bear Rescue Centre och nattmarknaden.
Dag 25 Mekongfloden/Pakbeng
Kryssning på Mekongfloden och besök på marknad.
Dag 26 Chiang Khong
Vi korsar Mekong River och åker in till Thailand.
Dag 27 Chiang Mai
Vi åker till Chiang Mai och besöker Doi Sutthep, Chiang Mai Zoo, ser en thailändsk boxningsmatch och fyndar på nattmarknaden.
Dag 28 Chiang Mai/nattåget
Fri dag. På kvällen går vi ombord på nattåget till Bangkok.
Dag 29 Bangkok
Vi besöker Wat Po och Grand Palace, ägnar dagen åt shopping eller får massage.
Dag 30 Bangkok
Avresa vid valfri tidpunkt.