Upplev Nya Zeeland och alla dess höjdpunkter under detta storslagna 24-dagars äventyr! Du kommer att färdas genom några av världens mest spektakulära landskap, utforska nationalparker, vandra på glaciärer, bada och sola i Doubtful Sound, besöka avlägsna Maoribyar, uppleva festivaler, njuta av nöjeslivet i Auckland, kryssa genom dramatiska vikar, se delfiner och valar och mycket mer. Följ med på en fantastisk resa Down Under!
Äventyrsresor är utformade för ungdomar mellan 18-39 år. Medelåldern på resorna är cirka 25 år och du kommer att resa och leva tillsammans med ungdomar från hela världen i grupper om ca. 10-15 personer. Resorna är perfekta för dig som vill resa i en sammansvetsad grupp där du kommer att lära känna många nya vänner.
I varje grupp medföljer alltid en erfaren Tour Officer som har en gedigen kännedom om resmålet och vid varje resmål kan du själv välja om du vill följa med på de aktiviteter som anordnas eller om du önskar upptäcka platsen/staden på egen hand. Vid flera av resmålen har du också möjlighet att tjänstgöra som volontär inom olika angelägna projekt.
Tillsammans med dina nya vänner kommer du att få unika och oförglömliga upplevelser som tar dig så nära ett lands kultur, natur och djurliv som möjligt men du kommer även att njuta av nöjesliv, mat och skönt strandhäng!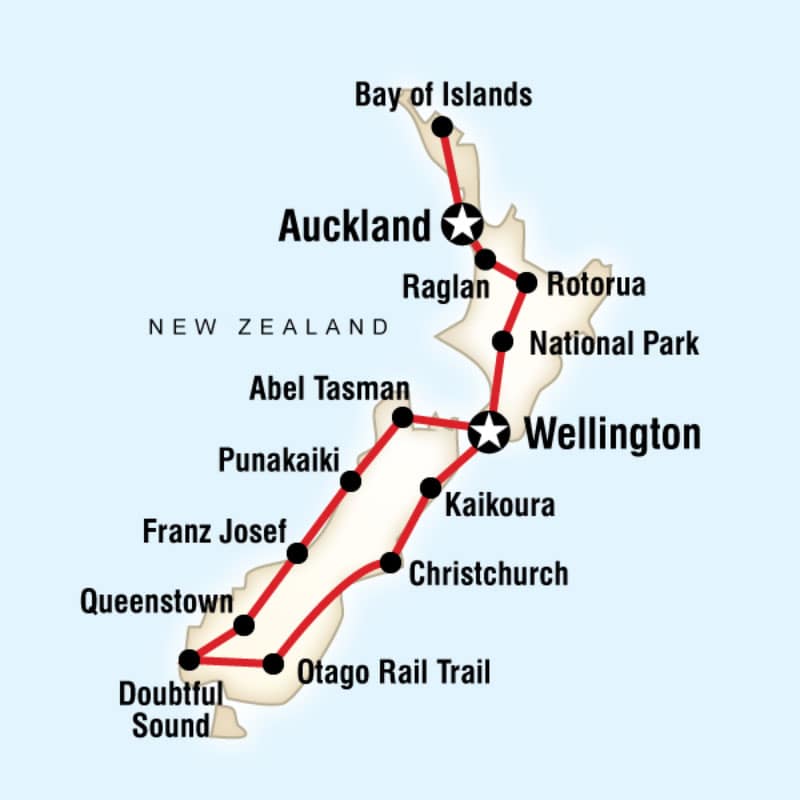 Resrutt
Dag 1 Auckland
Välkommen till Auckland! Ankomst vid valfri tidpunkt.
Dag 2 Bay of Islands
Vi färdas längs smala vägar och stannar för att beskåda de jättelika Kauri träden och snorklar vid Goat Island Marine Reserve. Via husbåt reser vi vidare genom det vackra Bay of Islands.
Dag 3 Paihia
Välj mellan vattenaktiviteter som paddling, snorkling, fiske eller besök de närliggande öarna. Vi utforskar Paihia och avslutar dagen med en barbeque.
Dag 4 Auckland
Ledig dag att utforska Auckland på egen hand eller följ med på våra aktiviteter, där du kan simma med delfiner, hoppa fallskärm, kolla in historiska Russell eller Waitangi Treaty Grounds.
Dag 5-6 Raglan
Resan fortsätter med ett besök på en conservation farm. Därefter blir det havskajaks-paddling och picknick. Under eftermiddagen och följande dag får vi surflektioner, går på bush walk's, besöker maorier och testar 'paddle boarding'.
Dag 7 Rotorua, Maori Village
Vi fortsätter till Rotorua, känd för sin geotermiska aktivitet, där vi utforskar området och besöker ett Maori-samhälle. Till lunch får vi njuta av en traditionell "Hangi" (maorisk matlagningsmetod).
Dag 8 National Park
Resan går vidare mot Lake Taupo, där vi spenderar dagen i de vulkaniska och världsarvslistade nationalparkerna. Vandring längs Tongariro Alpine Crossing, Nya Zeelands mest kända vandringsled.
Dag 9 Wellington
Vi spenderar dagen med att njuta av Nya Zeelands huvudstad, besöker bland annat Te Papa och nationalmuseet, promenerar längs Oriental Parade och testar några av Wellingtons många kaféer.
Dag 10-11 Abel Tasman National Park
Färjan tar oss över till Sydön, där vi spenderar de följande dagarna med att utforska Abel Tasman National Park. En fantastisk nationalpark med vandringsleder längs gyllene stränder och vattendrag.
Dag 12 Punakaiki
Vi färdas längs med kusten och besöker en sälkoloni och beskådar klippformationerna vid Punakaiki.
Dag 13-14 Franz Josef
Heldag för att utforska detta världsarv! Vandra på glaciärerna, besök de varma källorna eller ta en spännande 'helihike'.
Dag 15-17 Queenstown
Efter en stadig lunch i Wanaka fortsätter vi till äventyrets huvudstad, Queenstown, också känd som bungy jumpingens hemstad. Passa på att testa alla de adrenalinfyllda alternativen som finns här, jet boat, bungyjump, mountainbike, fallskärmshoppning eller följ med på en guidad tur genom vingårdarna.
Dag 18 Doubtful Sound
Denna morgon beger vi oss till Fiordland National Park. Doubtful Sound är verkligen en fantastisk plats, en av de mest avlägsna och orörda platser på jorden där du kommer att se sälar, pingviner och delfiner. Guidad kajaktur och övernattning i bush camp.
Dag 19-20 Central Otago
Vi cyklar längs Old Otago Gold Heritage Rail Trail och stannar för lunch och vinprovning längs med vägen.
Dag 21 Christchurch
Guidad tur genom Christchurch.
Dag 22 Kaikoura
Vår resa tar oss till kuststaden Kaikoura där vi spenderar dagen med valskådning, simma med sälarna eller vandrar längs den vackra kusten.
Dag 23 Wellingtion
Vi besöker en sälkoloni och reser vidare mot Picton för att ta färjan tillbaka till Wellington.
Dag 24 Auckland
Från Wellington går resan tillbaka till Auckland, med stopp vid Central Plateau för lunch. Vi anländer i Auckland runt 18:00.