Översikt
På detta fantastiska volontärprojekt hjälper du till med att ta hand om försummade eller föräldralösa djur, såsom leoparder, tigrar, björnar, pumor och vargar på The Wildlife Sanctuary i soliga Florida. The Wildlife Sanctuary drivs ideellt och är helt beroende av donationer och volontärer för att kunna upprätthålla den angelägna verksamheten och ge dessa djur en andra chans.
Under din tid som volontär kommer du att delta i en rad olika aktiviteter, från djurskötsel och utfodring, till underhåll och restaurering av centret. Allt du gör bidrar till att upprätthålla en fristad för dessa försummade djur och bevara Floridas unika djurliv, samtidigt som du kommer att ha en fantastisk tid mitt i The Sunshine State!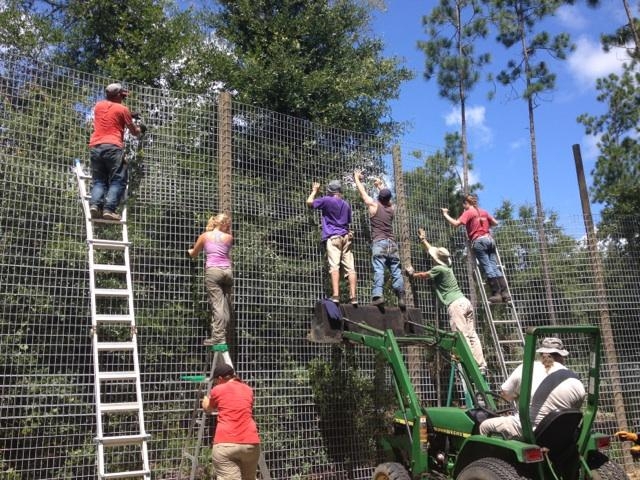 DU KOMMER ATT:
Hjälpa till att stödja Floridas djurliv.
Ta hand om fascinerande djur som leoparder, tigrar, björnar, pumor och vargar.
Bli en del av ett hängivet och trevligt volontärteam.
Bidra till att stödja Wildlife Sanctuary, som ger föräldralösa och misshandlade djur en trygg och säker tillflykt.
Delta i en mängd olika arbetsuppgifter.
Njuta av solen och allt annat som erbjuds i The Sunshine State!
Lära dig mer om exotiska djur.
Detaljerad information
The wildlife sanctuary is situated in a rural area in Silver Springs, Florida, on 80 acres of native land, surrounded by the Ocala National Forest. (approx. 1.5 hrs from Orlando and approx 1 hour from Daytona).
The sanctuary is in a very remote location and there is no public transportation in the area. The co-ordinators aim to organise time for volunteers to have an 'outing' (to the cinema, shopping, etc) every few weeks, but you should be aware that opportunities will be limited. If you wish to rent your own car, you will need a full drivers license and you must be 21 or 25 years of age, depending on the company. We recommend that you use either one of the car hire companies at Orlando airport or nearby Ocala for car rental.
If you wish to travel around Florida it would be advisable to allow yourself some time before or after the programme for independent travel. There is so much to see and do in this sunshine state – scream at the top of your lungs at one of the top theme parks in Orlando, explore the lush wilderness of the Everglades or just chill out on one of Miami's sandy beaches – the possibilities are endless.
Location: Zolfo Springs, Florida
DUTIES
There are a wide variety of volunteer duties that you may get involved with at the sanctuary.
Duties include but are not limited to:
Feeding
Food Preparation
Cleaning enclosures
Animal Enrichment
Gardening/landscaping
Performing maintenance tasks
Sorting fresh produce and rotating food supplies
Maintaining proper animal husbandry notes in the journal
Assisting with veterinary care as needed
Administrative duties
Habitat construction
Fence construction
Animal enrichment is an important part of the daily schedule as lack of enrichment causes stereotypical and harmful behaviour in animals. Volunteering at the sanctuary is hard work but yields enormous rewards.
If you have a certain skill such as mechanics, landscaping, carpentry or maintenance you will have the opportunity to work using these skills during your time at the sanctuary.
Occasionally you may have the chance to assist with tour groups to help educate the public about why wild animals are not good pets, animal endangerment and extinction.
FLORIDA
You're in Florida so make the most of it! There's so much to see and do in your free time. The sanctuary is located in the Ocala National Forest and along its edge is the Silver Springs State Park about 10 minutes away. This is definitely worth a visit and there are loads of activities on offer such as horse riding, canoeing, kayaking and hiking. For any adrenaline junkies out there, you can also go zip lining nearby!
There are plenty of local beaches at the lakes and springs, all on the doorstep, but of course if these aren't enough the sanctuary is only an hour away from the ocean, with Ormond and Daytona Beaches to the east. The same distance in the opposite direction there are lots of places to see Manatees as well as other springs and parks to visit.
If you want to venture further afield then Orlando is only 90 minutes away and a trip to Florida would not be complete without visiting Disneyworld!
Additional Information & FAQs
Minimum age
Minimum 21 years, maximum decided on potential participants' health.
Please note: you may be the only volunteer at your chosen project at any one time. If you have any questions about this, please feel free to contact us
ACCOMMODATION & MEALS
You will be staying in shared living quarters in a small house near the sanctuary . The accommodation is basic but comfortable – private bathrooms with hot showers, electricity, air conditioning, TV with DVD player, laundry facilities, full kitchen and a wireless internet connection at your lodging for you to bring your laptop or wireless device.
Male and female volunteers stay in separate house. It is the responsibility of volunteers to keep accommodation clean and tidy.
Meals
Food and groceries for regular meals are provided for volunteers. You will prepare your own meals in your quarters. Volunteers are required to clean up after themselves.
IS THIS PROJECT FOR YOU?
Reality Check
Animals at the sanctuary are often rescued from conditions that do not make them accustomed to human interaction and therefore require special handling by experienced individuals. Interaction with animals is in a safe manner; feeding or enrichment and does not involve physical contact with the animals.
You may be the only volunteer working with staff at your chosen project at any one time. However, you will still have the full support of your in-country team and those at the project. If you are looking for a group volunteering experience we have plenty of options for you to consider.
Advice & Safety
Throughout your programmes you will have the support and guidance of the programme co-ordinator and team. You will be provided with competent assistance and help with any questions or advice you may need during your stay.
You will be assigned a personal travel advisor who will co-ordinate your programme with you. Feel free to contact them at any time before you go, or when you are on your travels.
In addition, you will have access to a 24 hour emergency contact number
FAQ
1. Do I need to have worked with animals before?
No. As long as you are enthusiastic, fit and happy to get work hard and get involved, you will really enjoy the experience!
2. What is the accommodation like?
The accommodation is basic but comfortable with air conditioning and TV with DVD.
3. How hard is the work?
You do need to be fit & healthy as you will be working 9-10 hours per day.
4. What animals will I be working with?
The resident animals range from big cats, such as cougars, leopards and tigers to wolves, primates, bears and native American animals.
5. Do I have to have the vaccinations you suggest?
To be accepted onto the programme, you will require proof of a TB vaccine or a current negative TB test within the past 12 months. If you wish to work with bats you will also require rabies vaccinations.
Detta ingår
Volunteer Project
Meals
Airport transfers
Accommodation
Full support from the co-ordinator
Buddy list
Telephone and Internet facilities onsite
24 hour support number
Detta ingår inte:
Flights
Travel insurance
E-mail or phone charges
Priser & Datum
4 veckor: 14 600 SEK
6 veckor: 19 620 SEK
I PRISET INGÅR:
Deltagande i projektet
Boende under hela perioden
Frukost, lunch, middag alla dagar
Koordinator som hjälper dig under vistelsen
Transfer till och från flygplatsen
24 timmars kontaktnummer
STARTDATUM 2015:
Första och tredje söndagen i varje månad:
18 januari, 1 februari, 15 februari, 1 mars, 15 mars, 5 april, 19 april, 3 maj 17 maj 7 juni 21 juni 5 juli 19 juli 2 augusti 16 augusti 20 september
4 oktober 18 oktober 1 november 15 november 6 december 20 december
Förkunskaper & Anmälan
Förkunskaper
Du skall vara över 21 år.
Du måste vara i fysisk form och beredd på fysiskt arbete.
ANMÄLAN
Anmälningsprocessen, några enkla steg.
1. Du klickar på boka och fyller i anmälningsformuläret.
2. När vi mottagit din anmälan kontaktar vi dig och stämmer av bokningen.
3. Du bekräftar sedan bokningen genom att betala en handpenning om 2000 SEK (+ eventuellt avbeställningsskydd 5%).
 Handpenningen är en delbetalning och reducerar totalbeloppet med motsvarande belopp.
 Betalningen kommer du kunna göra via Swish, bankgiro eller med bankkort.
4. Hela programmet betalas 45 dagar före start.