Skolan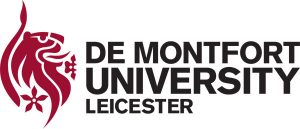 De Montfort University – DMU
Studera i England på De Montfort University i Leicester!
De Montfort är ett modernt statligt engelskt universitet med ett stort campus centralt i Leicester, cirka 1 timma från London.
Här kan du studera till en kandidat/bachelor eller läsa en master i ett mycket brett fält av ämnesområden.
På universitetet finns även goda möjligheter att göra en sk top-up degree (tillgodoräkna sig en svensk yh-examen och läsa till en brittisk kandidatexamen på 1 år)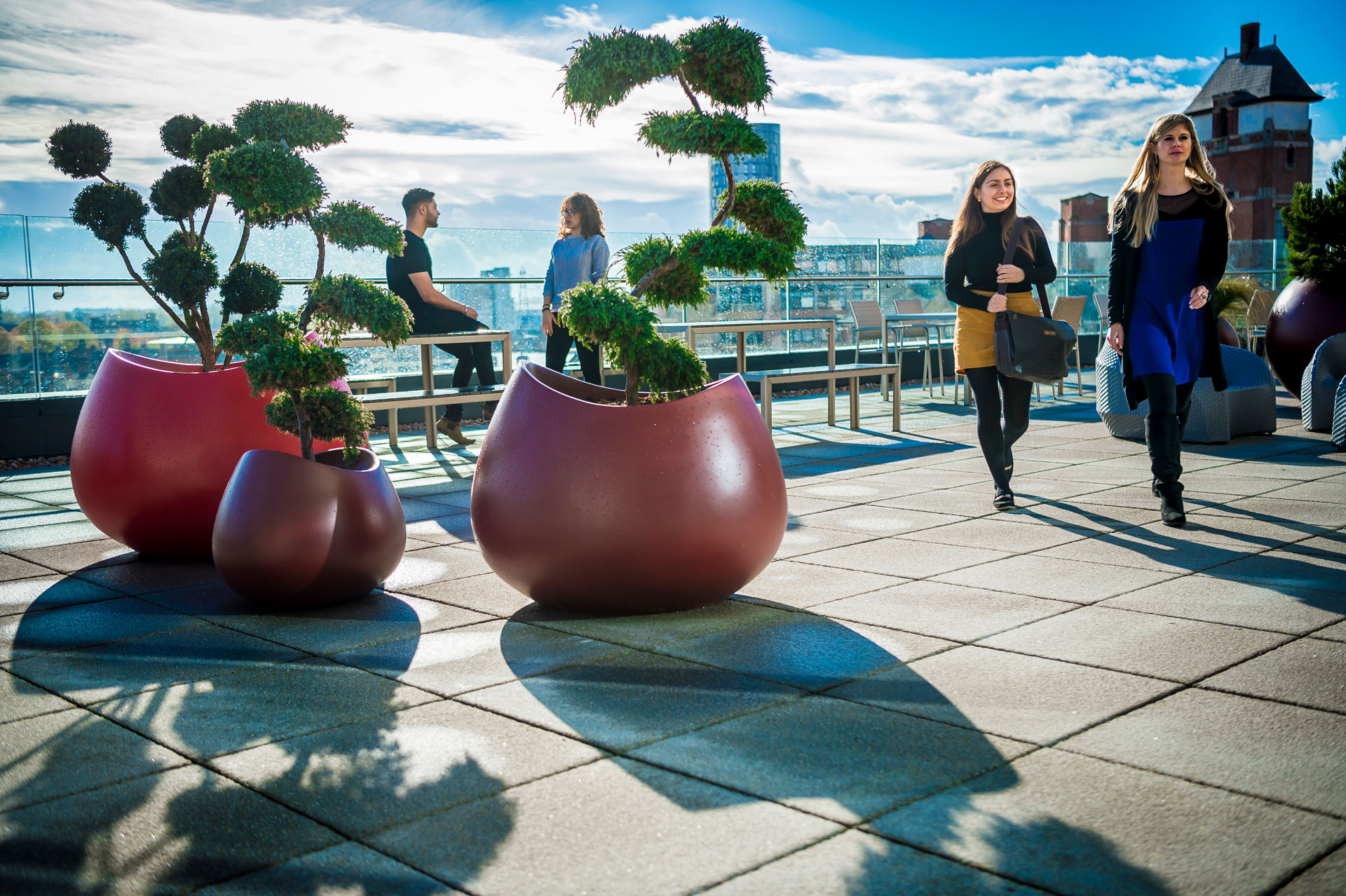 Studera på De Montfort University – DMU
DMU erbjuder över 300 olika kandidatprogram och masterutbildningar. Ett flertal utbildningar ger professionella ackrediteringar och många av utbildningarna har en stark inriktning mot yrkes- och branschområden.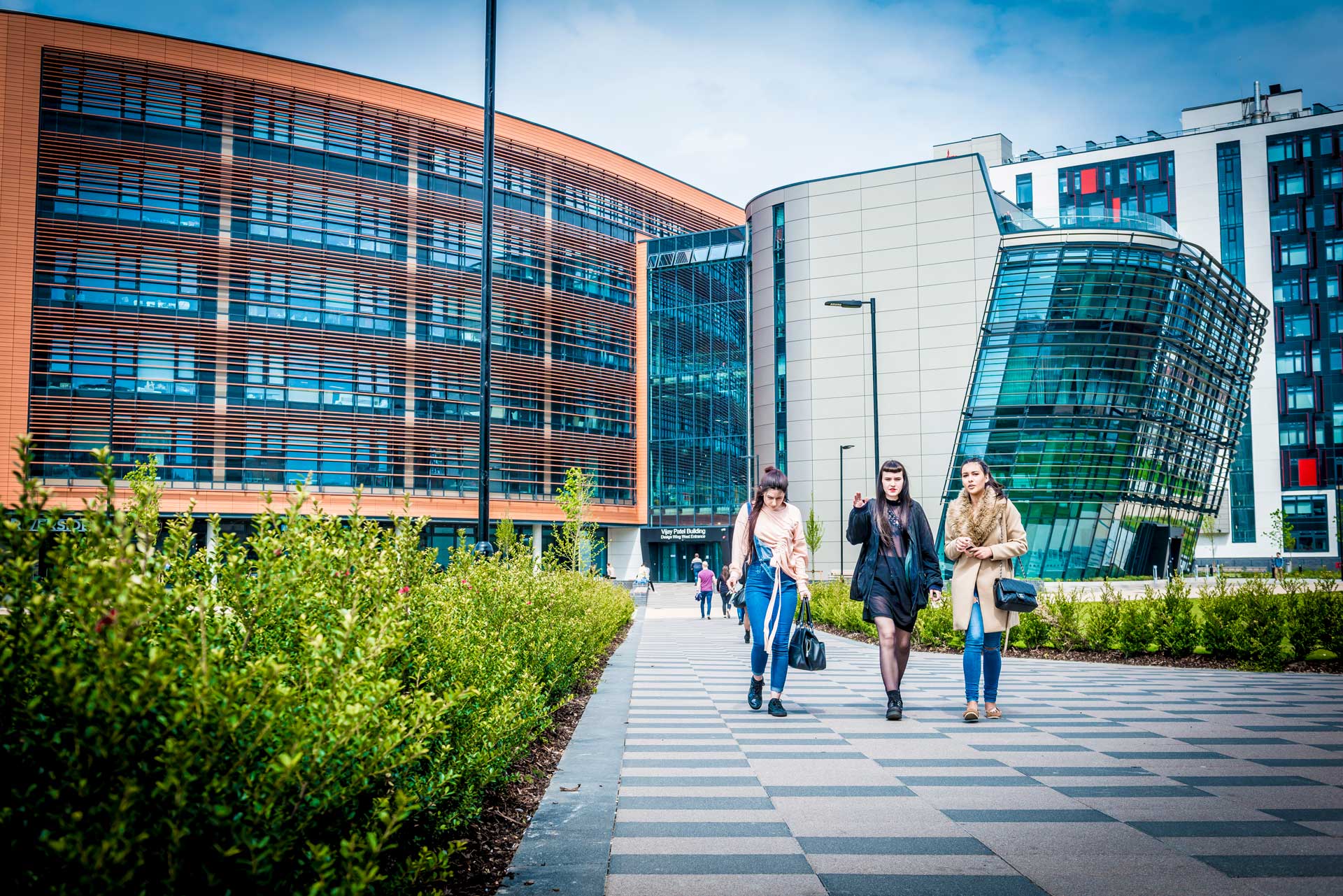 Modernt engelskt universitet
De Montfort University är ett modernt universitet men har sitt ursprung i högskolan Leicester School of Art som grundades redan 1870.
Här studerar cirka 25 000 studenter fördelade över de fyra fakulteterna för Art, Design and Humanities, Business and Law, Health and life Sciences och Technology.
Varje år studerar mer än 2 700 internationella studenter från mer än 130 länder på skolan.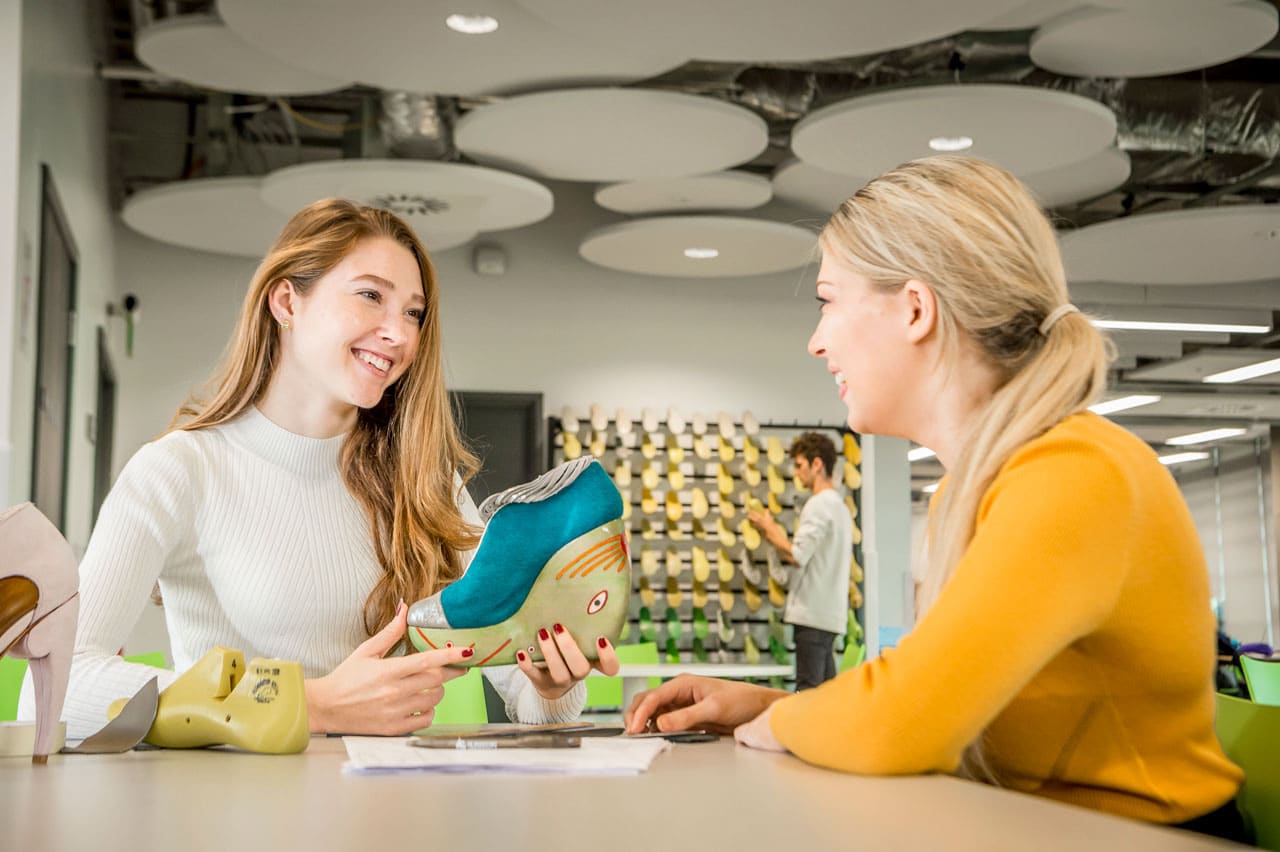 Branschrelevanta utbildningar
Stor vikt läggs vid karriärs- och yrkesrelevanta färdigheter. Ett flertal av universitetets program godkänns och ackrediteras av branschorganisationer och professionella organ.
Universitetets omfattande kontakter med företag, branscher och näringsliv ger dig som student möjlighet till praktikplatser och annan arbetslivserfarenhet i en mängd olika företag och organisationer bl.a BBC, NHS, HP och Deloitte.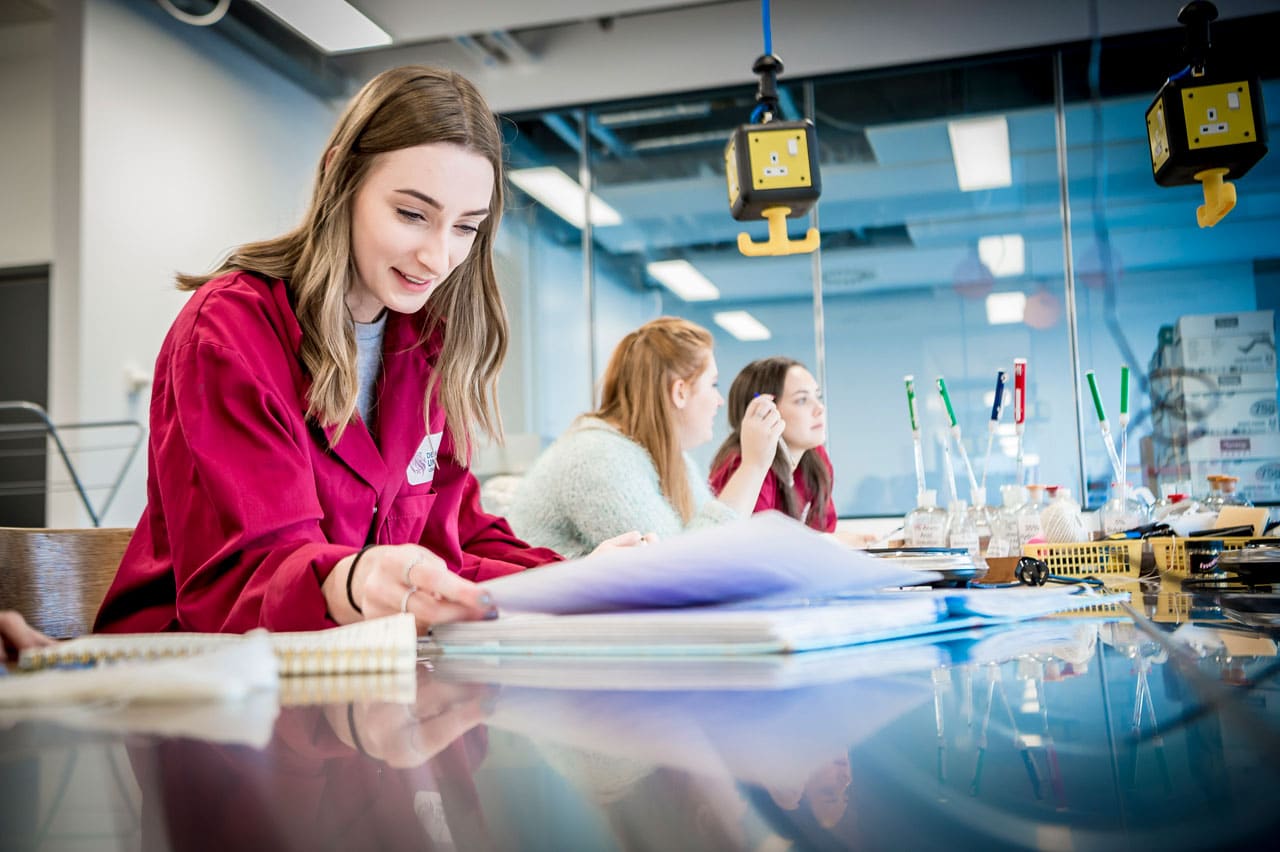 Campus med toppmodern utrustning och faciliteter
De Montfort University är ett riktigt campusuniversitet – här finns allt samlat på det moderna campusområdet centralt i Leicester. Du möts av modern teknik och utrustning i allt från laboratorier till ateljéer, studios, studieutrymmen och seminarierum. Huvudbiblioteket är öppet dygnet runt året om och erbjuder ett stort utbud av online-resurser, studieutrymmen samt specialiserade datoranläggningar.
Som student förbereds du för din framtida yrkeskarriär genom att använda det senaste inom teknologi och all den utrustning som är branschstandard.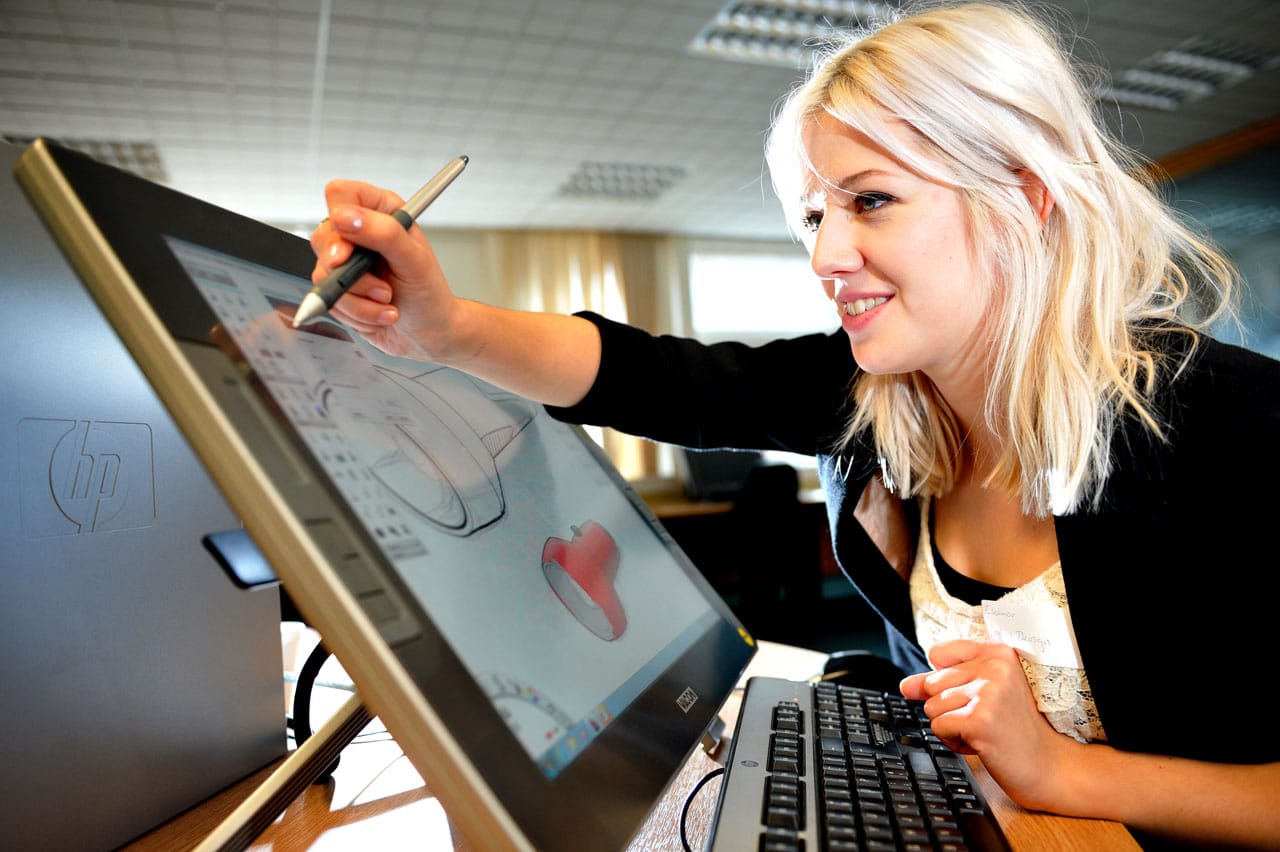 Campus mitt i Leicester
Campus ligger på 5 minuters gångavstånd från Leicesters centrum där du hittar ett rikt utbud av shopping, caféer, restauranger och ett livligt nattliv. Universitetets fritidscenter har ett stort antal anläggningar bl.a en klättervägg, en 25 meter stor pool och en dansstudio.
Studentlivet på campus är aktivt med över 140 olika studentklubbar, föreningar och idrottslag och DMU är också värd för gästföreläsningar på campus med en rad ledande profiler inom bl.a media, design, kultur och forskning.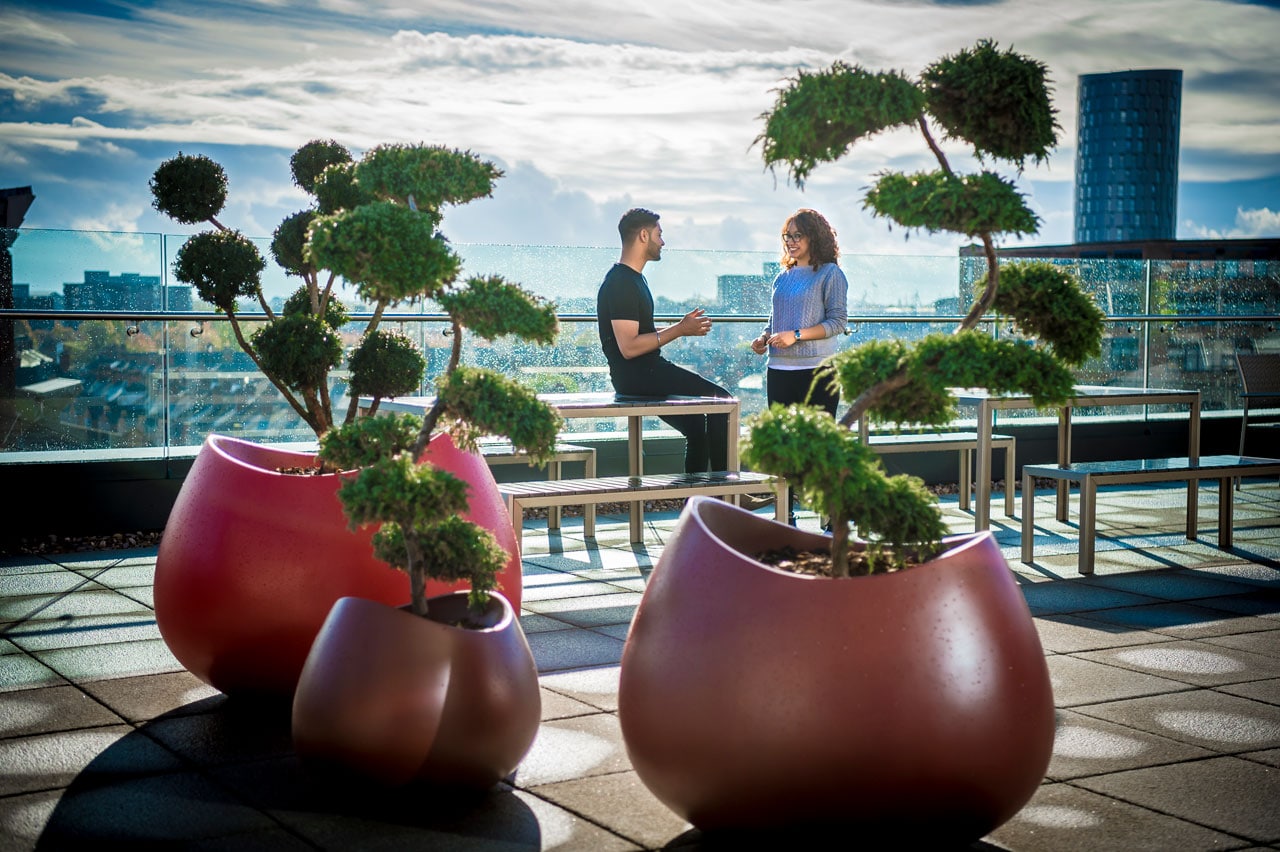 DMU Global – en port till världen
Skolan har ett välutvecklat program för internationella utbyten och erfarenheter. Genom DMU Global har du möjlighet att få stipendier för utlandsresor och internationella utbyten. Universitet har mer än 70 utbytesprogram med olika universitet världen över, vilket ger dig möjlighet att göra utbytesår i Europa, Nordamerika eller Asien.
DMU:s modestudenter har besökt Victoria's Secret i New York, studenter inom audiologi har volontärarbetat i Indien, ekonomistudenter besökte Hong Kong Monetary Authority och filmstudenter har besökt Hollywood.
Med DMU Global kan du också genomföra ett internship eller praktik utomlands, vilket ger dig chansen att förstå hur företag fungerar i ett globalt sammanhang och utveckla färdigheter som hjälper dig att sticka ut på arbetsmarknaden.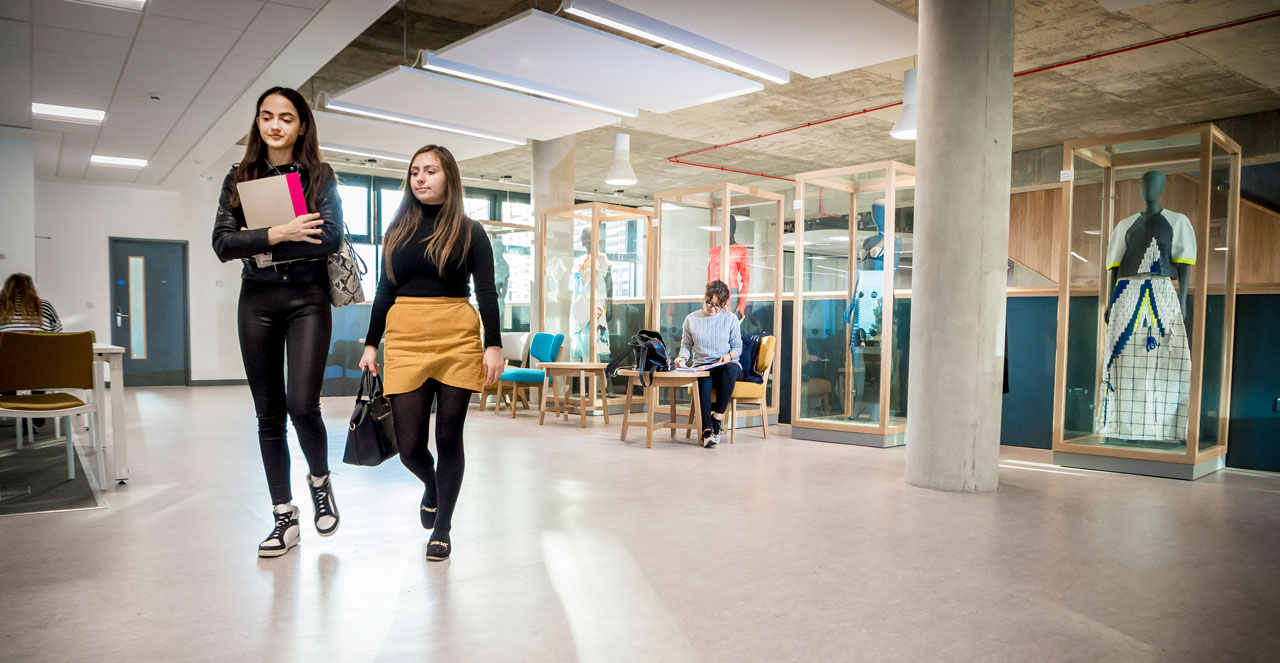 Varför studera på De Montfort University
Hög employment rate (andel studenter som är i arbete efter utbildningen) och rankas högt i Teaching Excellence Framework (TEF)
Mycket stor bredd av specialiserade utbildningar, kandidatutbildningar och masterprogram
Leicester är en av de mest ekonomiskt fördelaktiga städerna för studenter i England
Du kan läsa mer om skolan och utbildningarna på De Montfort University website här
Video De Montfort University – DMU
Kursorten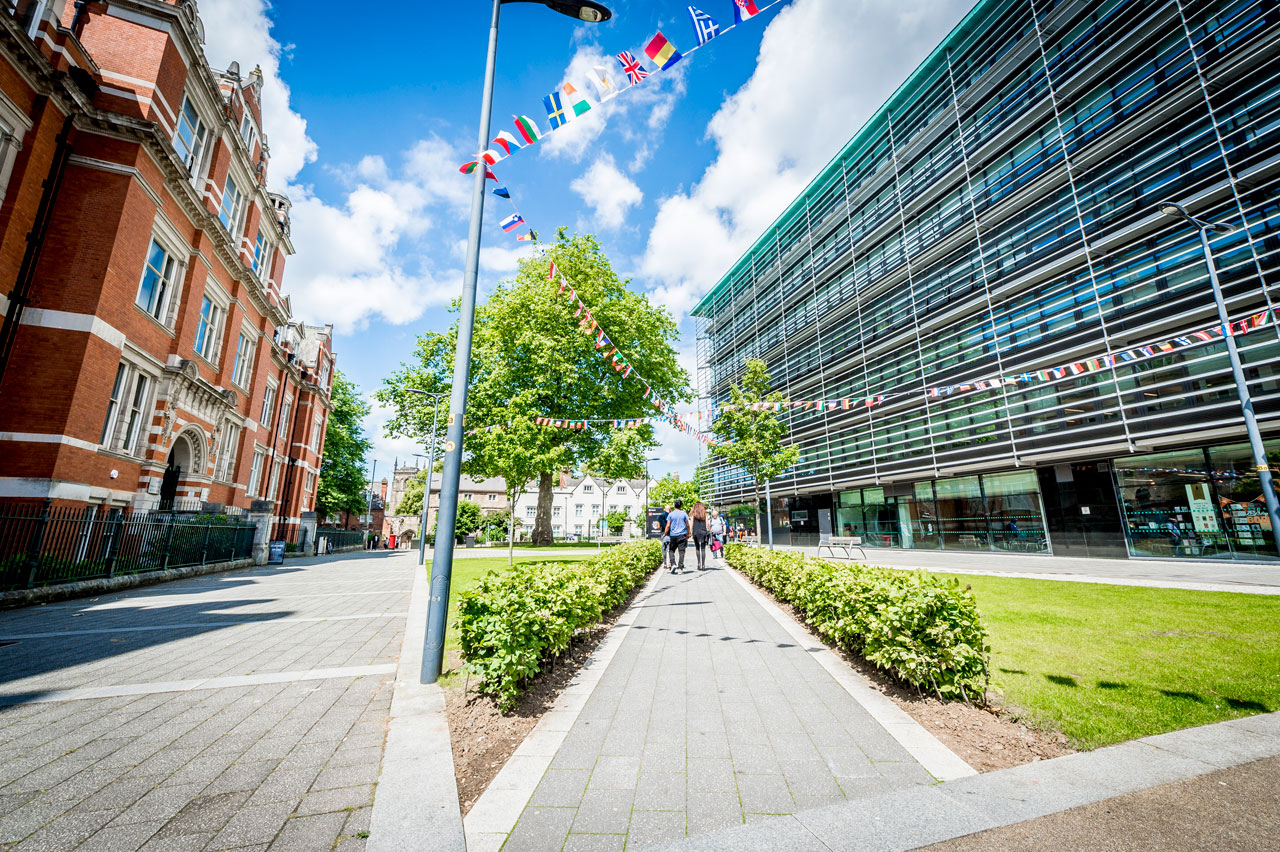 Studera i Leicester
Med en befolkning på mer än 300 000 är Leicester den största staden i East Midlands och den 10: e största i Storbritannien.
Leicester är en mångkulturell stad med en levande stadskärna. Staden är stor nog att erbjuda ett bra utbud av nöjen, kultur och shopping men är samtidigt kompakt och lätt att känna sig hemma i.
I och omkring Leicester finns 3 stora universitet och antalet studenter i Leicesters region är omkring 65 000.
Leicester är en av de mest ekonomiskt fördelaktiga städerna för studenter i England och stadens centrala läge gör att det är enkelt att ta sig till andra städer i Storbritannien. Till London är det cirka en timma med tåg.
Kurser
Utbildningar
Study abroad, 1 år
Du som är inskriven på högskola idag kan välja att läsa ett år på DMU som sk. study abroad inom ditt ämnesområde.
Förberedande basår, 1 år
Du som inte har tillräckliga betyg för att starta direkt på en grundutbildning (kandidat/bachelor) har möjlighet att studera ett förberedande basår (Year Zero eller International Year) och på så sätt kvalificera för att fortsätta direkt in på din valda kandidatutbildning.
Top Up degree, 1 år
Möjlighet finns att tillgodoräkna sig tidigare studier t.ex en svensk YH examen i ett relevant ämnesområde och studera till en kandidat/bachelor på cirka 1 år.
Kandidatprogram / Bachelor, 3 år
Kandidatutbildningarna är utformade med fokus på din framtida anställningsbarhet och ger dig de professionella färdigheter och praktiska erfarenheter som arbetsgivare efterfrågar. Kandidatprogram finns inom:
Art, Design and Architecture
Computer Sciences and Mathematics
Creative Technologies and Media
Engineering
Fashion and Textiles
Humanities
Business
Law
Health Sciences
Nursing and Midwifery
Pharmacy
Music
Performance and Arts Management
Applied Social Sciences
Master, 1 år
1-åriga masterutbildningar finns inom:
Health Sciences
Architecture
Art and Design
Business and Management
Computing
Engineering
Fashion and Textiles
Humanities
International Relations and Politics
Law
Media
Nursing, Post Registration and Continuing Professional Development
Performance and Cultural Events Management
Pharmacy, Healthcare Leadership, and Pharmaceutical Sciences
Psychology
Health and Life Sciences Research
Youth, Community, Social Work and Education
Boende
DMU studentbostäder nära campus
De Montfort University erbjuder boende på campus i 10 olika studentresidens med över 1000 studentbostäder. Med närhet till både campus och centrum är alla studentbostäder fullt utrustade och möblerade med tillgång till gemensamt kök och tvättmöjligheter. Som internationell förstaårsstudent erbjuds du boende i DMU:s studentbostäder när du blivit antagen.
Priser & Datum
Undervisningsavgift
Alla avgifter betalas direkt till skolan.
STUDIN hjälper dig helt gratis.
Alla kandidatprogram, BA/BSc/MPharm/MDes: 9 250 GBP / läsår
Foundation degree & HND, Higher National Diploma: 6 165 – 9 250 GBP / läsår
Master: 5 300 – 12 500 GBP / läsår (beroende på program)
CSN & Finansiering
Studierna berättigar till studiemedel från CSN.
Du kan låna för undervisningsavgifter och uppehälle/boende.
Du kan även låna för resa t o r, samt studentförsäkring.
Startdatum
Alla program startar i slutet av sep varje år
Vissa masterprogram startar även i januari
Läsåret är indelat i 3 terminer/studieperioder
Höst: mitten av sep – mitten av dec
Vår: jan – mars
Sommar: april – maj/juni
Förkunskaper & Ansökan
Förkunskaper
Fullständig gymnasieexamen / högskolebehörighet.
Engelska
Om du har betyg C/VG eller högre i Engelska 5 & 6 / A & B behöver du inte göra engelskatest. Annars krävs IELTS 6.0 /TOEFL 80 eller motsvarande.
Studievägledning
STUDIN är officiell representant för De Montfort University DMU i Sverige och hjälper dig med information, studievägledning och ansökan helt utan kostnad. Kontakta oss för studievägledning!
Anmälan
Du anmäler dig genom att välja Ansök här på websidan. Vi kontaktar dig då och hjälper dig vidare!
Översättning av betyg
För ansökan till de universitet och skolor vi representerar kan vi utföra översättningar av svenska gymnasiebetyg till engelska. Om du önskar få dina gymnasiebetyg översatta så ange detta när du ansöker. Översättningskostnad 500 SEK.